About the Somos Latinas Project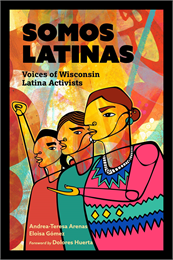 In 2012, Andrea-Teresa "Tess" Arenas, Ph.D., Chican@ and Latin@ Studies Program (CLS), UW-Madison faculty, developed a course to engage her community-based learning students in an effort to document Latinas in Wisconsin. Most of the historical literature on the Latin@ community has focused on the southwestern United States and has been heavily male-centric, which left a gap for the remainder of the country and for Latinas in particular. The Somos Latinas (We Are Latinas) History Project was created to document the many significant and largely hidden contributions of Latinas in Wisconsin engaged in their communities to positively impact society in K12 education, post-secondary education, civil rights, women's rights, domestic abuse services, immigration reform, political representation, peace and justice, and other areas. Tess made the decision to focus on older Latinas, some already in their eighties, to ensure that their stories were not lost. In some areas of the state there were no older Latinas identified and a handful of younger Latinas who met the project's community engagement criteria were also included. The project was shaped and overseen by a volunteer advisory committee that included Eloísa Gómez, co-author of the Wisconsin Historical Society Press book based on the project.
Phase I of the project ran from 2012 to 2016 and involved teams of Tess's community-based learning students who researched a designated Somos woman, developed a question set, conducted and recorded an interview on video, edited the interview footage, and produced a finished one-hour video featuring one of the women. This was such a positive experience that some students enrolled in multiple CLS courses so they could interview more women for the project. All Somos interview subjects were asked about archival materials documenting their lives and careers and those that were donated became part of a Somos Latinas collection in the Wisconsin Historical Society's Archives. Upon completion of Phase I it became clear that more work needed to be done, both to delve more deeply into the stories of the Somos women and to explore other ways to make the stories more widely available, which led to Phase II of the project. In Phase II a second round of interviews was conducted with a selection of 25 of the original project participants. These interviews, which were conducted on audio, were based on a Human Subjects Protection-approved common question set asked of each re-interviewed Somos woman. Edited transcripts of both the video and audio interviews were then used by Tess Arenas and Eloísa Gómez as the basis for the Wisconsin Historical Society Press book Somos Latinas. Wisconsin Historical Society archives staff, using the original video and audio interviews and transcriptions, created this online presentation of the Somos Latinas History Project.